Memorial Garden Appeal – Update
|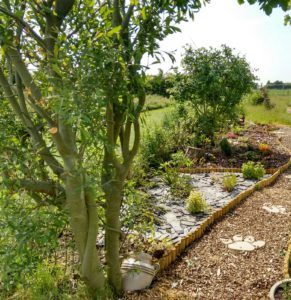 Update 19 May 2016
A big thank you to the person who left the paw shaped paving stones in front of the sanctuary this morning.  They will prove extremely useful in the garden.
______________________________________________
Update – 16 May 2016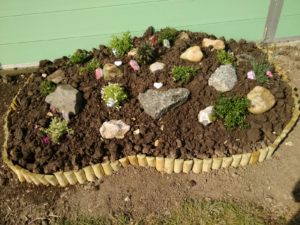 Pam continues to make progress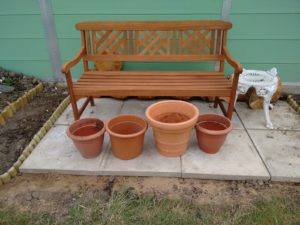 with the garden.  A rockery has now been created and the garden has been significantly enhanced with a garden seat which has been very kindly donated by former kennel dog Domino (now Snoopy) and his new owners Dan & Michelle Rose – thank you to all 3 of you.
The latest pictures are attached.
If any one can help with donations of any compost, plants, shrubs, climbing plants, turf, winter bulbs for the garden or to fill the empty pots or in any other way it would be really appreciated.
—————————————————————————————–
Update – 7 May 2016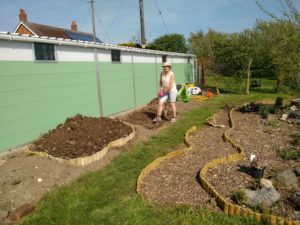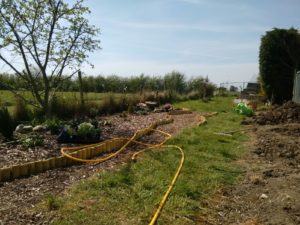 With the recent spell of fine weather Pam has been hard at work in the garden and is making great progress as the latest pictures will testify.  £50 worth of gardening vouchers were donated by one kind individual which has enabled her to buy materials and plants to assist her progress and again Pam would like to send thanks to that person.  The Sanctuary would also like to send their thanks to Pam for all her hard work – Looking at the photo it does look as if you could do with a beer though!
---
For some time the memorial garden at the Sanctuary has been neglected and unkept due in a great part to the construction of the new kennel block and lack of time.   It is at the moment far from the ideal place for people to remember their loved pets which is what it is intended for.
However our volunteer Pam Duckenfield has offered to take on the garden and make a feature of it.  She has already started work on the garden and it is beginning to take shape as the pictures will testify.  In order to progress, however Pam desperately needs plants, particularly small flowering perennial shrubs for planting in the garden.  She also plans to lay an ornate path, requiring logging, stones and rocks.  If anyone can spare any suitable plants, decorative items or materials suitable for Pam's project or even a few gardening vouchers she and everyone at the Sanctuary would be very grateful.  A lot of our beloved greys are buried in the memorial garden and it would be lovely to be able to remember them again in appropriate surroundings.
APRIL 2016  –  Pam would like to send an enormous thank you to the kind individual who sent her £50 worth of gardening vouchers anonymously.  She says she is overwhelmed by your generous gift and will make sure they are put to good use.