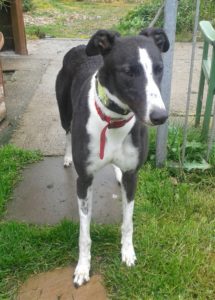 Frank  dob  7/4/11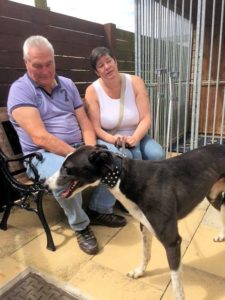 Dear All
After so tragically losing our beloved greyhound Vesta, myself, my partner John and our Labrador Lilly were totally devastated. There was a huge hole in our hearts and lives where he had been, so big we thought it would never be filled.  We watched as Lilly searched desperately round Vesta's usual places, the house, garden and car.  She was pining and missing him like ourselves.  We decided to visit your sanctuary, a little too soon some would say,
but we just felt so lost and unable to cope with his loss.  We were kindly shown around and then we met Frank or Frankie as we call him.  He had so much warmth and love in his eyes, we just fell in love all over again.  We adopted him straight away and Frankie came home with us.  After playing in the garden with Lilly and some gentle coaxing with treats he entered our home.  Frankie settled in so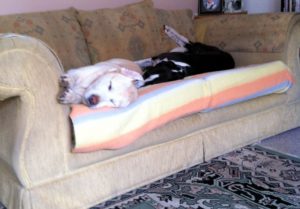 incredibly quickly it was almost like he'd been here all his life.  He has such a colourful character, we had no time for tears or sadness, our hearts and home was once again filled with so much love and laughter.  Frankie loves his new toys and his comfy bed,  and he is also very food orientated – we play musical plates at mealtimes.  He jumps up and greets you with kisses, he is adorable.
We will never forget our beloved Vesta, but Frankie has filled a huge hole that he left behind.  We thank you for letting us start to heal and to love and cherish another greyhound that I'm sure Vesta would approve of and that is our Frankie.  As you can see he has made our home his forever home.
Bless you all and thank you
Rachael, John and Lilly xx