Our Spilsby shop is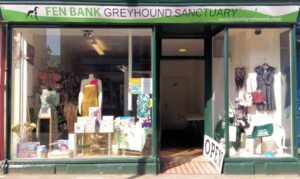 located at 29 High Street and is run by Bev Millard together with a team of volunteers.
We are always desperate for bric-a-brac and other items to sell, if you have anything you no longer need please bring it in or take it to the Sanctuary.
If you are in the Spilsby area please pop in and see us – you will be assured of a warm welcome!
THE SPILSBY SHOP IS CURRENTLY CLOSED DUE TO COVID RESTRICTIONS.
Normal opening hours are 
Mon  9:30 am to 3:00 pm
Wed, Fri and Sat   10:00 am – 3:00 pm
Sun, Tue & Thur  CLOSED
Where Are We?
29 High Street
Spilsby
PE23 5JH
Tel: 07780 462543
Email: shop@fenbankgreyhounds.co.uk