GRACE (2002 TO APRIL 2015)
I write with sad news that our beloved Grace was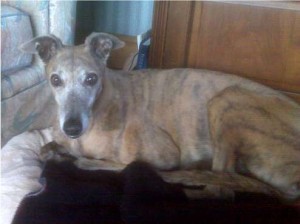 put to sleep in April, she had coped with kidney problems for 2 years and I cannot praise her treatment by Fiona at Pilgrim Vets enough, she was so kind.
Grace was our first greyhound, a real character and an ambassador for greyhounds, like Mary Poppins, practically perfect in every way. We miss her terribly but I'm sure in a month or two will be visiting Fen Bank and coming home with one or two greyhounds to keep us busy again.
RIP Grace 2002-2015.
SUE & BARRY DAWSON