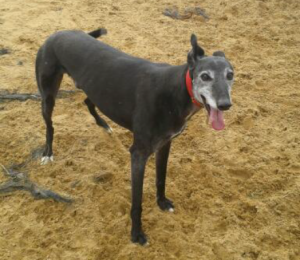 HOMED
Born: 1st March 2005

We felt this nervous but cheeky boy landed on his feet when chose by his previous family and Jenny. He was starting to appreciate the joys of life in a proper home when circumstances took a tragic turn for the worst, leaving poor Jack back at Fen Bank feeling sad, confused, and nervous again. He has remembered the staff which has reassured him 'all is ok' but it's not the same. 

Could you be the family to put happiness back into his life, as well as giving the reassurance his previous people need to help them through such a hard time?
From Diana, Jack's previous owner now very sadly unable to look after him:
When we first adopted Jack he was absolutely terrified of us. With great difficulty we tried to encourage him to enter our front door – we ended up by carrying him into our house. After a couple of days, when we made our usual show of love and affection to Jenny, Jack seemed to be saying 'that looks good – I wouldn't mind some of that for myself'. Very slowly and gradually he came closer to us and let us rub his chin and ears. Gradually we found him to be very responsive indeed. Jack still has a long way to go to recover from the horrendous life he had before we adopted him, but we feel that we have brought him quite a long way. He did get to the stage where he would come alongside my chair and nuzzle and lick my ear – that does have to be progress, I believe!
Volunteers view from Amy: Jack is such a nervous lad, he is extremely hand shy and really does need some patience and understanding. He walked reasonably well on the lead and settled after a short time. He was very content with a 20 minute walk and was very settled in the kennel afterwards. He has got such a cute little face and his grey markings add to his handsome looks.