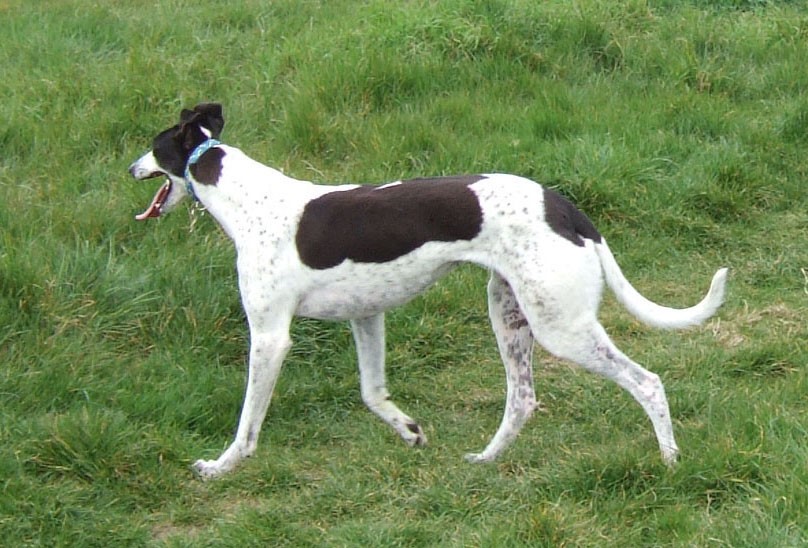 28th July 2001 – 27th December 2014
It is with great sadness that we report that our beloved greyhound, Marti, crossed the Rainbow Bridge on 27 December 2014.
When we first visited Fen Bank we were immediately taken with the quiet, undemonstrative, black and white girl that was to become our companion for the next eight and a half years.  We like to think she was similarly taken with us from the way she immediately jumped into the back of our car  despite having been spayed only the day before.  Marti was our first greyhound, but our fifth rescue dog, and arguably the easiest to train and manage.  The only thing that took time was recall which, eventually, she would do to a 'silent' whistle unless there was a rabbit in the equation, in which case it was a matter of waiting …. and waiting.
Marti was laid back even by greyhound standards! She would happily lie in front of a stall at a fête being crawled over by kids and has been a great ambassador for Fen Bank and greyhounds in general.  But perhaps she was most contented on the back-seat of our old MG four-seater convertible at classic car shows where she inevitably got more admirers than the car and welcomed everybody – adults, children  and other dogs alike in her quiet dignified way.  In fact she loved everybody, all other dogs, and cats if they didn't run away.  Despite this gentle nature she failed as a PAT dog. When we visited our local residential care home she just found a patch of sun on the  carpet and fell asleep, ignoring all the residents.
We thought we were going to lose her about three years ago when she was diagnosed with two slipped discs at the base of her neck.  The prognosis of conventional treatment was not good and we decided not to follow the surgical path as the risks from the anaesthetic and of the procedure itself were just too great. It was a greyhound trainer that came to her rescue – Keith, our Founder's husband, is one of the good guys who cares for the dogs he trains and he manipulated Marti's spine to achieve a total cure in about 20 minutes.  Any residual weakness was dealt with by use of the Magnetic Field Therapy Unit kindly loaned by Fen Bank. That gave us another three wonderful years with Marti.
Marti has left a great hole in our home and in our hearts, but a host of wonderful memories.  But her legacy lives on as she won us over completely to the greyhound cause, so much so that in less than a week since her passing a visit to Fen Bank was arranged and Lynn, a long time inmate of the sanctuary has graced us with her company.
Barbara and Andy Goodyear