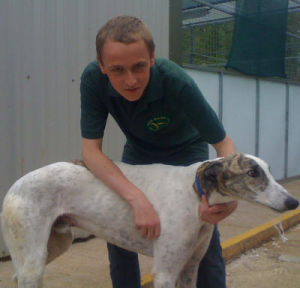 Tiger – 1st April 2008 to 28th September 2012
Tiger was my favourite dog at the kennels, every time I was there I gave him a treat, a cuddle and a walk. He loved it when he was in the Sand Paddock with his best friend Rina running around and getting messy. Tiger was a quiet dog in Fen Bank and a very soft dog. He loved having treats or a bone. Every time I went to Fen Bank Tiger would be the first dog I would say hello to and give him a great big cuddle and go for fantastic walks which he enjoyed; but Tiger you loved your food, you were the first one to finish and I called you greedy dog because you were the biggest dog there and what a dog – when he jumps he's like a horse really. He was one of the loveliest greyhounds and so cute.

When I heard about his leg I didn't think it was that bad but at that time I thought he strained it that was all, but he keeps hurting it and it's really sad when he had a bone tumour. I wasn't expecting that. When I found out he was put to sleep it made me really upset – the big boy was my pal and I still can imagine how friendly and great he was but you're in a better place now mate you would be suffering really bad now.

R.I.P. Lovable Tiger 28-9-2012 I will never forget that day. Everyone at Fen Bank will miss you.

Jack Davidson, Rina and all the crew at Fen Bank

Editor's note: Jack is one of our volunteers who comes three times a week to look after the greyhounds. He travels from 25 miles away and we and the dogs are very grateful for all his hard work. Thank you Jack, you are a star.