Tom organises his new home
|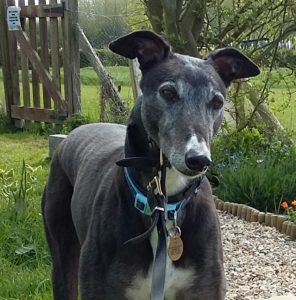 Dear Fen Bank
We hope that you are all well and re-homing lots of lovely greyhounds.
We have had Tom nearly four months now and our thoughts turned to evaluating how he has settled in. It is only when we started to consider his funny little habits and ways that it suddenly dawned on us that rather that settling into a routine in his new home, Tom has skilfully manipulated us and his Dog Walkers onto his familiar Fen Bank schedule. Allow me to present the evidence:
·         Grumpy if woken up before 8am
·         Excited to go out for a morning walk
·         Absolutely LOVES his crate
·         Expects a treat when he returns from his walk
·         Sleeps the rest of the day – all 23 ½ hours of it
·         Occasionally opens his eyes and acknowledges his Dog Walkers if (1) they have food or (2) he wants to pop out to the garden
The most frequent description that we hear of Tom (other than he is lovely), is 'he's a character'!!!! When we hear those words we have learnt that it is best to just smile and not ask for any further information.  Dan maintains that Tom is not naughty but 'cheeky – hmmm is all I will say to that one!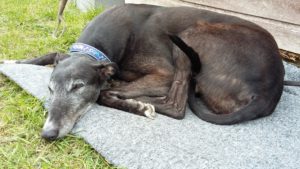 Tom has recently been diagnosed with arthritis in his hips and is on a daily dose of pain relief together with 'Yumove'  supplement  which seem to be helping although we think he plays on it sometimes and even has his morning Dog Walker giving him massages.
We had a long weekend at Disneyland Paris a few weeks ago and Tom went to Canada Farm Holiday Home for Dogs. We visited the kennel last year as we were planning a stay for Snoopy. It is really small and 'select'  – so much so that Tom (we kid you not!) had a spa treatment whilst he was there!!!  He had a hydro massage which supposedly is good for his arthritic hips, followed by a grooming session and he had his nails done. When we arrived to collect Tom we were watching him through the fence before he saw us and it was lovely to see him running around looking so happy – dare I say it, happier than what he was to see us!!!  I guess he thinks that the bar has been set pretty high in the outside world and that we are not quite measuring up now.
Dan has been busy supporting Fen Bank through the easyfundraising website and actually punched the air with pride when he made the Top 5 (he thinks that raising money for Fen Bank is a great excuse for spending more on Amazon! Hmmm!!!). His latest purchase was a thunder jacket for Tom  – which due to his greyhound shape has had to be customised with additional Velcro, not really sure what Tom makes of it but wearing it gets him a treat so it is a win win situation for him.
We hope to see you sometime over the summer – no problem getting Tom in the car, he absolutely loves it, small problem getting him out the other end. The highlight of his week is the drive to the supermarket every Saturday followed by an hour's sleep with Dan reading his book whilst I shop. He's a character!
Take care
Michelle, Tom (and Dan)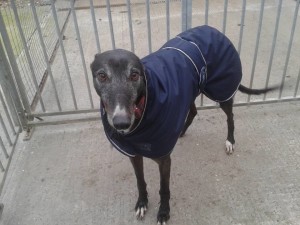 Born: 1st August 2009
Tom is a beautiful lively  black boy who has been at Fen Bank over 3 years .  He is very cute looking and has a lovely personality to match. Unfortunately he has been overlooked in the kennels because he looks like so many other black dogs, but once in a home he can learn how to behave around food because he can be a little greedy. so please consider giving Tom a home.
Volunteer's view from Amy: We took Tom out for a walk along the marshes and he was a real pleasure to take out, no trouble at all. He settled well in the car before the walk and happily shared the space in the back with Joe (another Fen Bank Greyhound). He walked nicely on the lead during the walk.
On the way back to the kennels he did whine a bit in the car but after reassurance he settled again. I think Tom will make a lovely family pet for someone.
Volunteer's view from Pam: Tom used to be a bit of a lazy dog who wasn't keen to walk far. Now he looks forward to his walks. Although a little excited when the lead is being put on, he walks really well without pulling. I spent some time with him in a paddock and he enjoyed chasing toys that were thrown…
…although he isn't keen to retrieve them – yet.