BLUE –  5 MAY 2004 to 1 APRIL 2017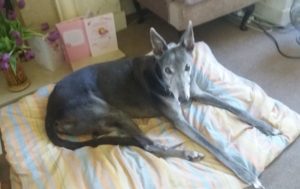 It is with deep regret that we have to inform you that our beloved Blue has crossed Rainbow Bridge.
He had suffered with Arthritis in the rear of his spine for several years.
He came to us, from Fen Bank, with his kennel mate Blondie.  Hopefully now they can run free together once again.
Blue was an excellent pet and companion to myself and my wife.  He was so 'laid back' we could take him anywhere.  We regularly took him to top end hotels where he settled immediately.  When our Grandchildren arrived he always behaved impeccably around them.
We miss him terribly as he was an important member of our family.
Barnaby misses Blue but he has coped relatively well.  Despite Barnaby joining our family about 3½ years after Blue and Blondie, we discovered that Blue and Barnaby were half brothers having the same Sire.
We would like to take this opportunity to thank Fen Bank, particularly Mick and Jess, for giving us the chance to take Blue into our family and always being there for us.
Kind Regards
Linda and Chris Wells