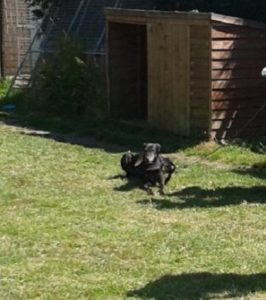 19 July 2006 – 21 Sep 2015
Sooty's dad won the Greyhound Derby in 2004 but Sooty never raced on a track—just straight into our hearts. She was a black beauty and had many friends who all deserve a mention – Sandra and Graham, Alan, Annie, Carol and Peter, Cathie, David, Kate, Margaret, Daniel, Nicholas, Ruth, Rob, Shirley, Tessa and of course Matthew, her wonderful vet who cared for her so well. Her boyfriend was a Terrier called Elvis; he shared his chews with her.    
She loved to visit my cousins, Pauline in Essex and Valerie in Norfolk. She also enjoyed many holidays at the two railway carriages and three houses owned by Michael and Michael near Wisbech. They helped us get Sooty to an emergency vet when she had a stroke while we were on holiday and we are very grateful to them. She recovered well from the stroke but nearly a year later she wasn't well and tests showed cancer, so she was put to sleep to save her from suffering.        It broke our hearts when she died but we're so glad to have known and loved her for 7.5 wonderful years. Thank you Sooty for being our Best Girl.
Andrea Tully