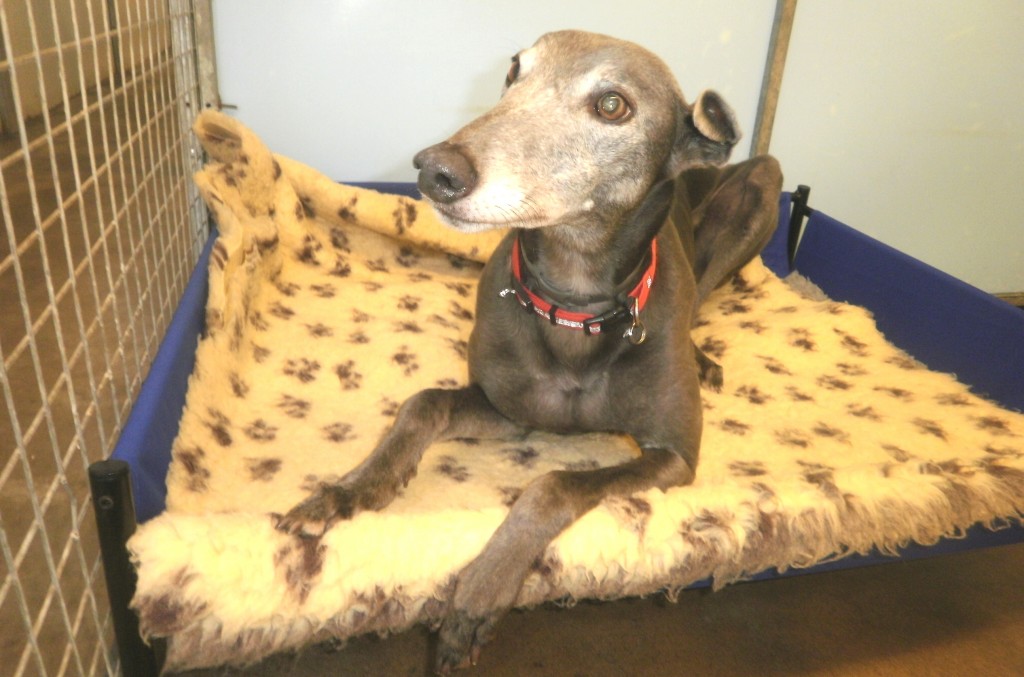 Born: 1st June 2008
Mikey is a handsome blue boy who is now 7 years old and has the most beautiful eyes! He has lived in a home before but sadly returned to Fen Bank when his owner fell ill. I am sure that it would not take long before settling in to a home again with the right training and help for his separation anxiety. A nice polite, steady dog who enjoys a walk and will make a very loyal dog. Will not be cat/small animal friendly. But is ok with other greyhounds when out and about. Mikey would be an ideal only pet more suited for an experienced sighthound owner.
 Volunteers view from Amy: We picked Mikey up to give him a day out of the kennels and so that we could get to know him a little better. He was no trouble getting into the car and was very good and settled almost immediately. Mikey was very polite at all times and didn't push to get out of the car.
We went into a small town nearby, he pulled a little on the lead at first but soon settled after about 10 minutes of walking and then walked nicely. I think once in a routine with regular short walks, as with many of the dogs, they will all improve on the lead. 
We also encountered 2 cats, although he did look and check them out, he didn't lunge to get at them and wasn't at all vocal, once told a firm 'No' he continued to walk nicely and we were able to distract him from the cats.
We also encountered a large group of children out on a school trip and this didn't faze Mikey either.
On the way back, Mikey was completely flat out and no trouble at all. He shared the space in the back of the car happily with one of the other Fen Bank dogs and even when he got trodden on accidently he showed no reaction.
Overall, Mikey is a lovely gentle dog, a pleasure to take out and deserves a nice home. Mikey will make a loyal companion and pay you back tenfold once you bond with him!